Uniquely Beneficial Properties
The Energy of Certified Organic Ingredients
Clean and potent plant extracts of high vitality.
Measurably higher vitamins, nutrients, and cancer-fighting antioxidants than conventionally grown crops.
Therapeutic grade extracts from organic herb and flowers.

Revolutionary Bioactive Cold Formulation
Cold pressed ingredients to retain all the vitamins, minerals and other bioactive properties that heat and chemical processing would destroy.

Raw, Unfiltered, Unbleached
Nearly every ingredient in every product is "raw" which means it is processed only by cold or room temperature pressing. The only exceptions are the essential oils, shea butter, and beeswax which are processed with heat.

Small Batch Made & Shipped Fresh 
Miessence produces its products in small batches every thirty days and ships fresh to our customers.
Small production runs to protect the active ingredients in our products and maintain potency for the customer's benefit.
Concentrated Extracts
We offer significant quantities of bio-available nutrients to literally feed your skin with therapeutic properties. For example, our 30ml bottle of our Rose Monsoon Hydrating Mist is made with the potent extracts of 45 organic rose blooms.
Our products are not watered down but densely concentrated. Unlike almost every other product available Miessence does not add water for the sake of spreading out costly ingredients.  Miessence instead uses a high-quality base such as our exceptional Miessence Organic Aloe Vera. 
Not only does a concentrated formula increase quality, but it also reduces the cost per use for our products. A very tiny bit goes a long, long way.
Every ingredient in every product is beneficial for the skin, even our organic preservatives, and antioxidants
All ingredients are active – no synthetic functional ingredients, additives or fillers (e.g. pH adjusters, colors, pearlizers, consistency modifiers, preservatives)
Completely active ingredients make for a more potent and effective formulation. In comparison to a standard consumer product (5% active ingredients / 95% water, chemical fragrance, surfactants, fillers, emulsifiers, and preservatives) or a professional line (25% active).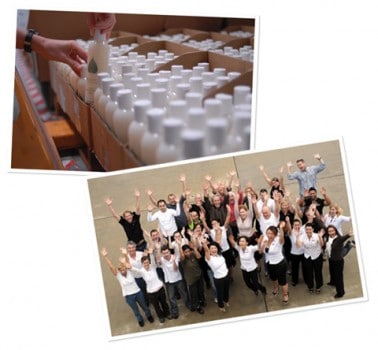 Proprietary Emulsification & Preservative System
No chemical emulsifiers. Miessence developed its own all-natural and organic emulsion system that is unique to our products.
No chemical preservatives. Miessence's proprietary all-natural and organic preservation system is tested and proven to protect our products from mold and bacteria. (read about our all-natural preservation system)